India 'cow vigilantes': Arrest after Muslim man lynched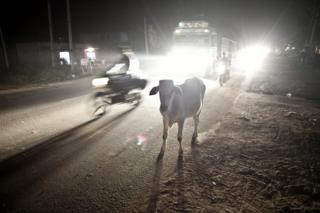 Police in India's northern Rajasthan state have detained one person over the alleged killing of a Muslim man by suspected Hindu "cow protection vigilantes".
The dead man, Ummar Khan, and two other men were transporting cows when their vehicle was attacked on Friday.
One man was seriously injured while the driver of the vehicle fled.
Hindus consider cows sacred and killing them is illegal in several states, including Rajasthan.
A recent Human Rights Watch report said at least 10 Muslims had been killed over the issue since May 2015.
Mr Khan's family members allege that he was shot dead by a Hindu mob and his body was thrown onto a nearby railway track to cover up the killing.
The police have not confirmed if this is a case of "cow vigilantism", but they told the BBC that they had found six cows, one of which was dead, in the vehicle that was attacked.
They said they were investigating Mr Khan's murder alongside a complaint of "cow smuggling" lodged against the three men.
The attack has sparked anger in the local Muslim community.
"It is a killing by cow vigilantes," Moluna Hanif, head of a local Muslim group, told the BBC's Narayan Bareth. He said that he had spoken to the injured man, Tahir, who told him that they had been attacked by a cow protection group.
"It is most unfortunate and if the police fail to arrest these men, we will launch a protest," Mr Hanif added.
A 55-year-old dairy farmer, Pehlu Khan, was beaten to death in Rajasthan in April for allegedly transporting cows illegally.