A paralysed Indian child's 45-day journey for surgery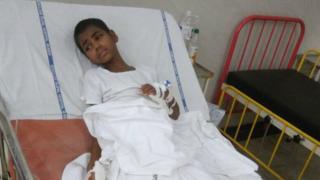 After an accident that left her paralysed, an eight-year-old girl spent more than a month travelling hundreds of kilometres in search of a hospital that could treat her. BBC Marathi's Mayuresh Konnur retraces her journey from a poor tribal village in the western Indian state of Maharashtra to Mumbai, the state capital.
Raja and Shanti Walvi were grazing cattle when their daughter, Ravita, fell from a tree - a fall of 25ft (7.6m).
They don't know exactly when it happened. The Walvis are tribal farmers who only speak their native language, Bhil, and cannot read or write.
But according to an estimate by the hospital where she was admitted on 18 October, the accident was early in September. That would mean it took one-and-a-half months for Ravita's parents to get her to a hospital equipped to deal with what she had: a spinal fracture.
'Bambulance'
The Walvis live in a remote village in a district called Nandurbar at the foot of the Satpura hills. Large parts of the district are still not connected by trains or roads.
After the accident, they carried an unconscious Ravita in a "bambulance", a blanket strung up on bamboo sticks, which can be carried like a cot.
It's a common contraption in places such as these where the only way to get to a hospital is to start out on foot.
The Walvis walked for nearly 30 minutes to take a ride in a "passenger jeep", a taxi service used by people in remote villages. They went to the nearest primary health centre, 11km (seven miles) away.
Mr Walvi says the doctor dressed Ravita's wound but suggested she be taken to the civil hospital in Nandurbar, the district headquarters, for further treatment.
So the Walvis took another ride, the "bambulance" in tow, for 80km.
This was just the first of five hospitals they would visit over the next 45 days or so - not uncommon in India's overburdened public healthcare system.
Hospital after hospital
Mr Walvi said Ravita spent 10 days in Nandurbar but she didn't get better. So he took her home, although the doctors advised them to go to a city 200km away in the neighbouring state of Gujarat.
But Mr Walvi said he couldn't afford it. "I was frustrated," he added. "We did not know what to do next."
Ravita could only move her hands. She barely ate and she wasn't talking. But they could tell she was in pain.
So they decided to take her to a private hospital 70km from their home. But Mr Walvi said doctors at the hospital told him they couldn't treat Ravita.
They visited yet another public hospital, only to be told to go to Mumbai. Mr Walvi says one of the doctors arranged for an ambulance that would take them and gave him money for the journey.
The ambulance took them to the King Edward Memorial Hospital in Mumbai, where Ravita was admitted.
"But they could not understand our language and we couldn't understand theirs," Mr Walvi said.
Four days later, they left with Ravita because Mr Walvi said he saw no improvement.
They decided to go home but when they asked passersby how to go to Nandurbar, no one understood them.
They spent hours wandering around Mumbai asking for directions to Nandurbar before police found them.
After Mr Walvi somehow managed to explain his situation, the police took them to a public hospital, where they met a female constable, who knew the language the Walvis spoke.
She explained to them that the doctors wanted them to go to Gokuldas Tejpal (GT) hospital in the city, because it was the only public hospital in the city with a neurological team that could treat Ravita.
Doctors at GT told the BBC that the fall had broken vertebrae in Ravita's spine, robbing the lower part of her body of all sensation. They said they couldn't operate on her right away because she was malnourished.
She finally underwent surgery on 3 November.
"We cannot expect complete recovery immediately," Dr Mukund Tayade, chief superintendent of the hospital, told the BBC. "But physiotherapy will rehabilitate her."
He said she had to be brought to Mumbai because hospitals in Nandurbar or Dhule do not have neurosurgeons on staff to operate on patients with spinal injuries.
The delay in getting to Mumbai did not worsen Ravita's injury, according to Dr Tayade. He said her spine had fractured the moment she fell from the tree.
But, he added, she need not have suffered as much as she did because they would have relieved her of pain.