Swiss tourist couple beaten up in India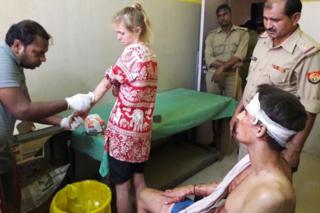 A Swiss couple have been attacked at Fatehpur Sikri, a monument 44km (27 miles) from the Taj Mahal, Indian police say.
A group of men, reported to number three or four, attacked Quentin Jeremy Clerc and Marie Droz after an argument on Sunday in Agra district.
Local media reported on Wednesday that Mr Clerc had suffered a fractured skull and Ms Droz had fractures to her hand.
They are being treated at a hospital in Delhi.
Rahul Srivastava, chief spokesperson of the Uttar Pradesh police, told the BBC: "Three accused have now been arrested. They appear to be minors, but we can confirm this fact only after further investigations."
Mr Clerc told The Times of India newspaper that the argument began when the men started taking pictures of them.
The report quoted police as saying they had forced Ms Droz to take selfies with them, and continued to follow them for an hour, before attacking them with sticks.
Agra's Superintendent of Police, Amit Pathak, said the couple had attended the police station, and were taken to hospital for treatment from there. He said they had not wanted to file a police report, but a case had nonetheless been registered.
India's Foreign Minister Sushma Swaraj on Thursday asked the government in Uttar Pradesh state to submit a report on the case.