Jay Amit Shah: India BJP defends party chief son over 'graft'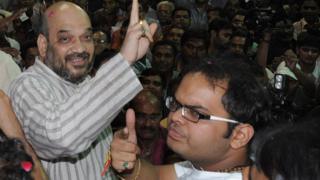 India's ruling Bharatiya Janata Party (BJP) has defended Jay Amit Shah, the son of party president Amit Shah, after Indian news portal The Wire accused him of corruption.
Railway Minister Piyush Goyal, who held a press conference to defend Mr Shah, said he would sue The Wire for 1bn rupees ($15.3m; £11.6m).
Mr Shah denied that his business grew after the BJP came to power.
But the opposition is demanding a probe into the allegations in the report.
Congress leader Rahul Gandhi quipped on Twitter that Mr Shah was the only beneficiary of demonetisation, a term used for the government's controversial decision to ban high value notes, ostensibly to target "black money" or unaccounted for wealth.
However, a recent report from India's central bank had shown that the move, which inconvenienced millions, did not achieve this objective.
Other parties asked if the government would use its investigative agencies to go after Jay Amit Shah in the way it had with opposition politicians similarly accused of corruption.
The fact that a minister was deployed to defend Mr Shah, who is not a lawmaker, has also caused controversy.
Mr Shah said that the report was "false, derogatory and defamatory". The Wire has said that it would stand by its story.