India Muslim army veteran's citizenship questioned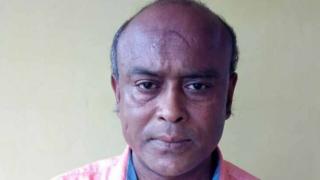 A retired Indian army officer's nationality has been questioned by a special court in the northeastern state of Assam that identifies and deports "illegal" migrants from Bangladesh.
Mohammed Ajmal said he received a notice from the court asking him to "prove" his Indian citizenship.
Mr Ajmal told BBC Hindi that he had been targeted for his religion and could prove his nationality.
His wife received the same notice in 2012, but the case was withdrawn.
Mr Ajmal resigned from the post of Junior Commission Officer in 2016. He said he has all the documents needed to prove his citizenship. "After serving in the Indian army for 30 years, I have been served this notice accusing me of being a foreigner living illegally in India," he told BBC Hindi. "My only fault is that I'm a Muslim."
The court notice alleges that Mr Ajmal entered Assam illegally after 25 March 1971, which is known as the cut-off period after which people from Bangladesh who entered the state were not allowed Indian citizenship.
Police officials told BBC Hindi that the notice was "part of the process".
"If the concerned person has all the required documents, then the issue will be resolved," police chief Mukesh Sahay told BBC Hindi.
Hafiz Rasheed Choudhury, a high court lawyer and activist in the city of Guwahati, said he believed this was a form of racial profiling.
Assam has witnessed bouts of communal violence in the past as the debate over so-called infiltration by outsiders led to increased tension between the state's indigenous population and Bangladeshi migrants.
Changing demography, loss of land and livelihood and intensified competition for political power has added a deadly potency to the issue of who has a right to live in Assam.
This case will be heard at the special court on 13 October.