Durga Puja: Gold sari and Big Ben wow Kolkata crowds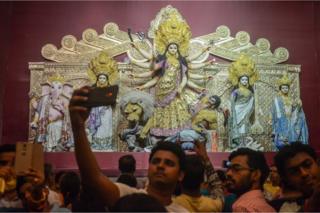 The Indian city of Kolkata (formerly known as Calcutta) has a long tradition of lavishly celebrating the Durga Puja, an annual Hindu festival that reveres the goddess Durga.
It is the biggest and most popular festival in the state of West Bengal, where elaborate stage decorations, known as "pandals," draw huge crowds.
During the nine-day festival, thousands of pandals are constructed in almost every neighbourhood in the city. Over the years, they have become a popular display of creativity and grandeur.
Photographer Ronny Sen has captured images of one celebration that stood out for its London theme, and for dressing an idol of the goddess Durga in a sari made out of pure 22-carat gold.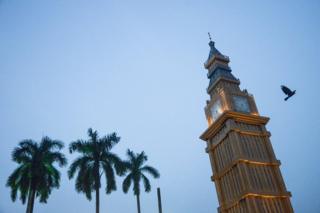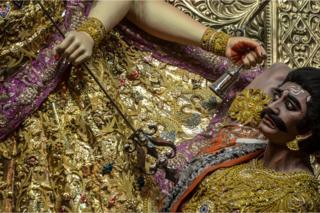 Weighing 22kg, the gold sari is worth 62 million rupees (approximately $944,000; £705,000).
The sari, covered in detailed motifs and shiny gemstones, was made for the occasion by designer Agnimitra Paul.
Around 50 artisans worked on the costumes over the course of two and a half months, according to The Indian Express.
The idol is found inside a replica of Buckingham Palace, which was made for the festival and is located in the city's Santosh Mitra square.
Other installations include lookalikes of London replicas like Big Ben, Tower Bridge and the London Eye.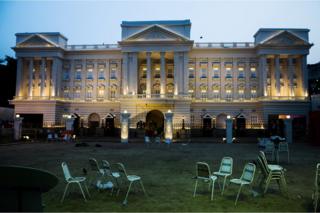 The Durga Puja festivities in Kolkata are known for their extravagant decorations, and many pandals are entered into competitions.
Past themes have included recreating iconic yellow taxis, the Maitrayee Express train which travelled from India to Bangladesh, and Buddhist pagoda structures.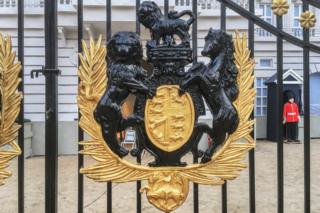 While this replica of Big Ben was made for the festival season, it isn't the first of its kind.
Back in 2015, a permanent lookalike of Big Ben was constructed in the city under the Chief Minister Mamata Banerjee's vision of making Kolkata as "glorious" as London.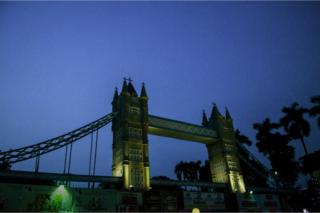 Other pandals in this year's festivals drew inspiration from the White Temple in Thailand, the urban sprawl of cities, and the art of selfies.
It is not unusual for pandals to reflect current affairs or social issues - in 2013, one structure was made to protest against rape while another one, shaped like a boat, made a statement against the pollution of the River Ganges.
The festivities began on 19 September and will end on 30 September.