Amnesty: Families 'not compensated after 2013 India riots'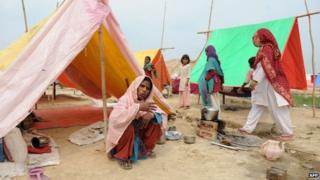 Over 190 families displaced after the 2013 Muzaffarnagar riots have not received compensation, rights watchdog Amnesty says.
In its report, it said the authorities had applied inconsistent definitions of a family to deny people compensation.
The Hindu-Muslim clashes in Muzaffarnagar killed over 60 people and displaced more than 50,000 others.
Many of these families continue to live in temporary camps, with little access to water and electricity.
Tens of thousands fled their homes during the September 2013 violence in Muzaffarnagar, in the northern state of Uttar Pradesh.
It was sparked by the killing of three men who had objected to the harassment of a young woman. The riots, which spread to neighbouring villages, have been described as the worst in the country in a decade.
In October 2013, the state government declared that it would provide one-time compensation of 500,000 rupees ($7,835; £5,935) to families from nine surrounding villages that they identified as worst affected.
Between August 2016 and April 2017, the rights group visited 12 resettlements and found that over 190 displaced families from the nine villages were yet to receive compensation.
In a response to the report's findings, the government claims "to have followed all the rules, and compensation has been given to those affected", Arijit Sen, a researcher at Amnesty who worked on the study, told the BBC.
Official records show that 1,800 families have been compensated.
According to the report, many families were denied compensation because authorities claimed they were part of a larger joint family which had already received money.
The state government defined "family" as a group of people who live together and use a common kitchen. This constitutes one household.
But even in cases where families were able to prove that they lived in separate households, the report claims that they did not receive any financial aid.
This was in the form of separate kitchens or government identification documents such as ration cards that stated different addresses from their joint family members.
Despite this evidence, the report says that they have been denied compensation from the state.