India Mumbai blasts 1993: Two sentenced to death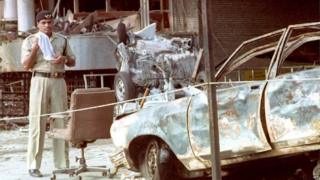 A court in the Indian city of Mumbai has sentenced two men to death for their role in bomb attacks in 1993.
The blasts, allegedly to avenge the killing of Muslims in riots, targeted a dozen sites and killed 257 people.
Firoz Khan and Tahir Merchant were convicted of criminal conspiracy and murder.
Abu Salem, who fled India after the bombings and was extradited from Portugal in 2005, received a life sentence, along with Karimulla Khan.
Another man, Riyaz Siddiqui, was sentenced to 10 years in jail.
---
Inside the courtroom
Mayuresh Konnur, BBC Marathi
The room where the sentences were read out looked like any other tired court chamber in India - small with peeling paint and wooden furniture.
More than 100 people were packed into the court, mostly police, lawyers and journalists. Some other people had attended out of curiosity.
As soon as the five convicts were brought in, they had their handcuffs taken off and sat with their lawyers. The judge made them wait an hour and a half before arriving at his judgement. Firoz Khan and Tahir Merchant seemed shocked as they were sentenced to death.
Abu Salem - the most notorious - had a small smirk on his face as he was given his life sentence. Portugal only granted his extradition on the condition he would not be given the death penalty.
Read more: How the 1993 blasts changed Mumbai forever
---
Seven men were detained between 2003 and 2010 and were tried separately as they were arrested towards the end of a previous trial.
A court found six of them guilty in June. One man, Mustafa Dossa, died of cardiac arrest soon after his conviction.
One man was acquitted.
In 2015, Abu Salem, a key associate of Indian crime lord Dawood Ibrahim, received another life sentence for a 20-year-old murder, which was not connected to the blasts.
Yakub Memon, the man convicted of plotting and financing the bombings, was executed in 2015.
---
History of Mumbai attacks
March 1993: Series of explosions kill 257 people and injure 713
August 2003: Four bomb attacks kill 52 people
July 2006: Seven bombs go off on crowded trains within 11 minutes, killing more than 180 people and wounding hundreds
November 2008: Gunmen carry out a series of co-ordinated attacks across seven high-profile locations, including two luxury hotels, the city's main commuter train station, a hospital, a restaurant and a Jewish centre, killing 165 people. Pakistan-based militants are blamed for the attacks and peace efforts between the two countries are derailed. Nine of the attackers were killed. Pakistani national Mohammad Ajmal Amir Qasab, who was captured alive, hanged in November 2012
July 2011: Three near-simultaneous explosions during Mumbai's evening rush hour kill 18 people and injure 131