Can this state overcome India's language divide?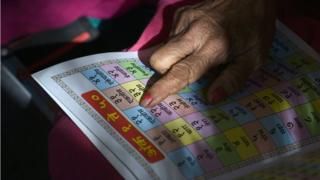 India has 22 officially recognised languages, although hundreds more are spoken. The politics of language since Independence has been fraught with tension. But one state's efforts to integrate migrant workers from elsewhere in the country is being hailed for its positivity, writes BBC Hindi's Imran Qureshi.
Launched by the Kerala State Mission Authority (KSMA), the book titled Our Malayalam (Hamari Malayalam in Hindi) could help ease language-based tensions and barriers in Kerala even as anti-Hindi protests take hold in the rest of India's south.
"In many parts of south India, Hindi is a foreign language," Satish Deshpande, a professor of sociology at Delhi University, told the BBC. "In recent cases where a state has tried to cater to Hindi-speaking people over the regional population, there has been uproar because language is a part of their identity - it's a strong marker of boundaries in India."
Last month, activists in Karnataka furiously blackened sign boards displayed in Hindi on the walls of a metro station. In March, the state of Tamil Nadu saw a spate of protests when it replaced English with Hindi on its road signs. "Language has held a historically important space in India, often linked to feelings of patriotism," explained Prof Deshpande.
"By holding about a dozen classes wherever they live, we are trying to socially integrate them into Kerala society," said Dr PS Sreekala, chief executive officer of the KSMA. She added that many did not know Hindi either as they came from various parts of the country. "That is why we have introduced teaching Hindi as well."
The programme has found some enthusiastic students. "I found it very difficult to learn the Malayalam language because the people in Kerala, largely, do not even speak Hindi," Abdul Rehman, a construction worker from West Bengal, told BBC Hindi. "It was tough initially but I learnt it."
Sanjeev Gurung from Assam, a state in India's north-east, said it had taken almost three months to learn the language. "I have just managed to speak Malayalam but it will be a good idea to learn to read and write," he said.
But some have found it quite hard to adopt a new language from scratch. The latest entrant to the migrant worker programme, Mohammed Najmal Haq, has managed to learn "just a few words of Malayalam" over three months.
Mr Haq, who is also from Assam, said that he and his colleagues got by in the plywood factory where they worked because the owner spoke Hindi. "And the 20 of us who work at the factory speak to each other in Assamese," he added.
This inability to communicate in the region's vernacular has only furthered their status as outsiders, leading to feelings of alienation and stigma.
"They are even called criminals by some sections of the local community, all because they have come from outside the state," said one official who spoke on condition of anonymity.
But some migrant workers see benefits to working in a state like Kerala, which has historically been associated with a strong trade union movement. "We need not work for more than eight hours [per day], unlike in other states," said Mr Haq.
Irudaya Rajan, a professor from the Centre for Development Studies and an expert on migrant labour, pointed out the importance of the migrant labour force in the state. "It is not the migrant worker that needs Kerala," he said. "It is Kerala that needs the migrant worker."
Prof Rajan estimates there are around 2.2 million people from Kerala spread across the globe, with some 1.1 million of them scattered in India but outside of the state. This means around 3.3 million people from Kerala do not live in their state, he said.
"A plumber from Kerala goes to the Gulf to work, but he is replaced by a plumber from, say, Orissa [an eastern Indian state]," he added. "I call this replacement migrant labour."
According to Prof Rajan, many employers in Kerala prefer to hire from outside the state in order to get away with paying less to the migrant worker. "If it was a worker from Kerala, he [the employer] would have had to pay more," he explained.
The regional divide in India, when it comes to cultural identity and language, can be overwhelming, which is why Prof Rajan thinks this initiative could lead to positive results. "It is a good move," he said. "It is another type of integration, which is essential."
Additional reporting by Krutika Pathi