Dried lizard penis being sold online as India tantric root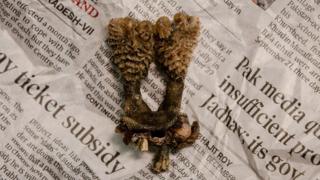 A joint investigative team from the UK and India say they have uncovered an "international fraud" where dried monitor lizard penises are being passed off as tantric plant roots.
The root, hatha jodhi, is believed to bring good luck and happiness as it resembles two hands joined in prayer.
A statement from World Animal Protection said Indian wildlife authorities had conducted raids in several states and seized samples.
The fake "roots" are being sold online.
Customers largely seem to be the Asian diaspora in the UK, other parts of Europe and the US, the statement said.
A recent raid in the eastern Indian state of Orissa saw the seizure of dried hemipenis from Bengal and Yellow Monitor lizards from a house in the city of Bhubaneswar, the statement added.
An Indian member of the investigating team said the illegal trade was of major concern for the continued survival of the lizard species involved, as both Bengal and Yellow Monitor lizards are protected under Indian and international law.