Chandrashekhar, India Dalit leader, arrested over caste riots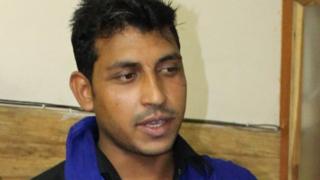 Chandrashekhar, the leader of an Indian caste-based movement, has been arrested for allegedly fuelling violence in the north Indian state of Uttar Pradesh.
Mr Chandrashekhar, who uses one name, leads the Bhim army, a group of activists from the Dalit (formerly untouchables) caste.
He was accused of inciting violence in Saharanpur district which killed two people in May.
He was arrested in the northern state of Himachal Pradesh on Thursday.
Police say he will appear before court soon, adding that he is one of the main accused in the rioting.
Is this angry young man India's new Dalit icon?
India's 200 million Dalits have traditionally been at the bottom of the Hindu caste system, and for centuries were kept in subjugation by the higher castes.
Despite laws to protect them, discrimination remains a daily reality for many.
Mr Chandrashekhar's emergence as a community leader over the past two years is being seen as a new phase in Dalit politics in Uttar Pradesh.
In 2015, he formed the Bhim Army to fight caste oppression in a local college where "Dalit boys were often beaten up for drinking water, not cleaning benches and even sometimes for simply studying hard".