Praise for 'tree-saving' Indian lawmaker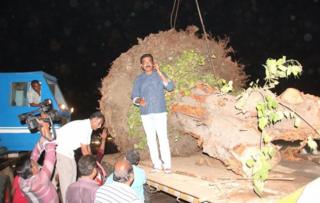 A lawmaker in the southern Indian state of Andhra Pradesh has been praised for using his own money to save four trees.
Bode Prasad spent 100,000 rupees (£1,200; $1,546) to relocate the peepal trees which were due to be cut down to make way for a section of the Vijaywada-Machilipatnam highway.
Mr Prasad said he had seen these trees since his childhood and did not want them to be destroyed.
The trees have been relocated to another spot in the area.
The lawmaker said the local village council fully supported him in this initiative.
"The local panchayat (village council) did not have adequate funds to spend on relocating the trees. So I spent my own money," he told BBC Hindi's Imran Qureshi.
Mr Prasad says he was not against development projects. "But we should not cut trees when roads are expanded and highways are created," he added.
His effort has been praised on social media, with many saying that he had set an example for others to follow.