Bollywood stars spar over nepotism claim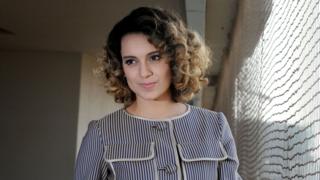 Two top Bollywood stars have sparred over claims of "nepotism" in the industry.
Kangana Ranaut recently said that filmmaker Karan Johar was fit to play the character of a "stereotypical Bollywood biggie" in her biopic.
She described the character as being "very snooty", and a "flag bearer of nepotism and the movie mafia".
Johar responded on Saturday, saying that if she was so terrorised by the industry, she should "leave it".
The director, who was speaking at the LSE India Forum in London, added that he was "done with Kangana playing the woman and victim card".
Ranaut, who came to Bollywood from a small town in the northern state of Himachal Pradesh, has often said that some filmmakers were unwelcoming towards "outsiders" like her.
"In my biopic, if ever it's made, you'll play that stereotypical Bollywood biggie, who is like you know...very snooty and completely intolerant towards outsiders," she told Johar on his talk show last month.
The director on Monday said Ranaut's assessment was wrong.
"You [Ranaut] cannot be this victim at every given point of time who has a sad story to tell about how you've been terrorised by the bad film industry. Leave it," he told NDTV.
Bolllywood is one of the biggest movie industries in the world, but critics say that getting a break into films is extremely difficult.