India arrests after actress says she was abducted and raped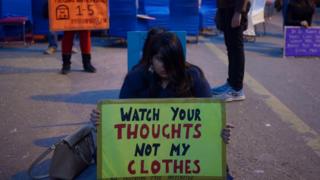 Police in the southern Indian state of Kerala have arrested three people in connection with the suspected abduction and rape of a popular film actress.
The actress has alleged she was raped inside her car by three people who waylaid her vehicle on Friday night as she was on her way to dub a film.
Police arrested her driver and detained two more suspects on Sunday night.
However the main accused, who has been identified as her former driver, is still at large.
The actress has said that the abduction and rape lasted almost two hours, and she was threatened that lewd pictures of her would be released on social media.
Police have said they are searching for three more people.
Has India reached a turning point in tackling rape?
Arrests over rape of Indian children
India gang rape victim assaulted again
They have registered a case of rape, kidnap, criminal conspiracy and wrongful restraint.
The news has caused outrage in India, with many members of the south Indian film industry speaking out.
"It's shocking. I couldn't believe this happened in Cochin where a lot of women reach home late in the evening after work," film director Lal, who only uses one name, told BBC Hindi.
Prominent actor Mohanlal made a Facebook post, saying: "It's time we stop being candle holding and candle lighting sympathisers and ensure that the law of the land be strengthened in such ways that nobody even dares contemplating such acts, leave alone commit it. My heart goes out to her in this time of distress. May justice be served without delay."
Rape and gender crimes have been in the spotlight in India in recent years after the brutal gang rape and murder of a student in 2012 in Delhi.
In response, tough new anti-rape laws were introduced.
However, brutal sexual attacks against women and children continue to be reported across the country .