Delhi 2005 blasts: Alleged 'mastermind' jailed for 10 years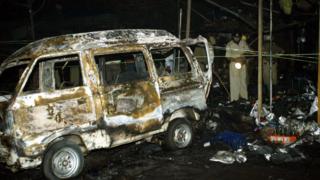 One man has been convicted over serial blasts in India's capital Delhi that killed 60 people in 2005.
Tariq Ahmed Dar, who police accused of masterminding the attacks, was sentenced to 10 years in prison for funding terrorism.
Two others, who were accused of murder and attempted murder, have been acquitted of all charges.
India had blamed militant group Lashkar-e-Taiba for the attack on three busy marketplaces in the city.
The casualty figures were high because the blasts occurred days before the Hindu festival of Diwali, which is celebrated on a grand scale in Delhi.