Indian woman held for acid attack on ex-lover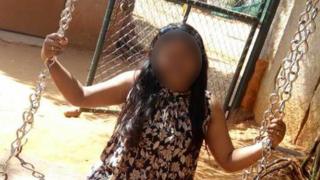 A woman has been arrested in the southern Indian city of Bangalore for throwing acid on her ex-boyfriend. (Warning: Some readers may find the image below distressing)
The man recently ended his relationship with the woman after four years.
City police say it is their first case of a woman throwing acid at a man.
Estimates say more than 1,000 acid attacks a year take place in India. In almost all cases men carry out the attacks and women are the victims.
The women fighting back after acid attacks
Raped comic 'super hero' returns in new role
The UK team whose holidays give acid attack victims new hope
"One can say this is the first case in the West Division of Bangalore police. As per our records of 12 years, there is no other such case of a woman attacking a man with acid," deputy commissioner of police MN Anucheth told BBC Hindi's Imran Qureshi.
"The acid fell on the right side of Jayakumar Purushottam's face, burning his ear, cheek and temple."
His eyes were not damaged.
Mr Purushottam, 32, told police that his ex-girlfriend Lydia Yeshpaul, who worked as a nurse, threw acid on him before slashing his face with a scalpel.
He added that Ms Yeshpaul wanted to marry him, but his parents rejected the relationship because the two were from different religions.
She is Christian and he is Hindu.
Mr Purushottam said that he ended the relationship three months ago, and started looking for another girl to marry.
"This infuriated her, leading to the acid attack," he added.
The attack took place in the street after he had left work.
Passers-by took him to hospital. Lydia Yeshpaul was detained soon after.
She appeared in court on Wednesday facing charges of attempted murder and was remanded in judicial custody for 14 days.