McDonald's 'dosa burger' amuses Indians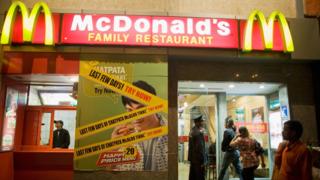 If you are a fan of Indian food, you must have come across the hugely popular masala dosa, which is a type of rice pancake with a potato filling.
But have you ever imagined the classic dish in the form of a burger? No? Well, McDonald's is reportedly planning exactly that.
Reports say that "dosa burgers" may soon be sold at McDonald's outlets.
While the news has amused some Twitter users, others are angry at the attempt to "mess around" with Indian dishes.
How McDonald's conquered India
McDonald's opens vegetarian venue
What Indians have done to world cuisine
Twitter has been abuzz ever since the Economic Times reported that McDonald's new Indian dishes would feature items like the dosa burger and anda bhurji (masala scrambled eggs).
"We continue to look at inspiration from Indian cuisine and bring it as a McDonald's format which will give you flavours from the west but the familiarity of Indian," Amit Jatia, vice-chairman of Westlife Development, which runs McDonald's restaurants in parts of India, was quoted as saying by the newspaper.
But some Twitter users are not impressed.
Others used the opportunity to suggest other types of food that McDonalds could start offering their customers.
But some felt McDonald's was simply trying to become "more Indian", and it shouldn't be criticised.