India to probe soldier's viral video on 'bad food'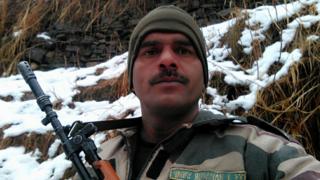 India's home minister has ordered a probe into three videos posted by a soldier, claiming troops on the border with Pakistan got poor quality food.
Tej Bahadur Yadav of the Border Security Force posted videos of burnt roti (flatbread) and lentils that he said had only turmeric and salt.
"This is the quality of the food we get ... how can a jawan (soldier) do his duty?" he says in a clip on Facebook.
The videos, posted on Monday, have been viewed over eight million times.
My Yadav also alleged that the quality of the food was so poor that many times soldiers opted to go without instead.
He said the problem did not lie with the government, but was a result of corruption among senior army officers who, he alleged, were selling rations.
India's Home Minister Rajnath Singh tweeted that he had asked for a report from the Border Security Force (BSF) and would take "immediate action".
Junior Home Minister Kiren Rijiju also responded.
The BSF also responded to the video in a tweet, saying that they had already sent a senior officer to the location to investigate:
The video has generated outrage among Indians.
Inspector General of the Border Security Force DK Upadhyay told media that the soldier had several complaints against him and had faced disciplinary action in 2010.
He said, however, that Mr Yadav had been moved to a different camp so that a fair inquiry could be held into his allegations.
Mr Yadav has not responded to the statement.