Sushma Swaraj: Indian minister released from hospital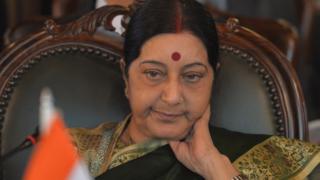 India's Foreign Minister Sushma Swaraj has been discharged from hospital where she underwent a kidney transplant.
Ms Swaraj tweeted late on Monday that she was back home and "seeing necessary official papers". But she was not allowed to receive visitors, she said.
The 64-year-old minister has a history of chronic diabetes and was admitted to a Delhi hospital last month.
Ms Swaraj is one the most high-profile ministers in Prime Minister Narendra Modi's cabinet.
The hospital in Delhi said in a statement that Ms Swaraj underwent a kidney transplant operation on 10 December and "has shown steady recovery".
Many Indians had offered to donate their kidneys to Ms Swaraj after she tweeted she was undergoing tests for a transplant.
The minister is known for reacting quickly to calls for help from Indians living or travelling abroad.
Last month, she helped a Pakistani bride get a visa to attend her wedding in India.