Indian women praise 'inspiring' Jayalalitha on social media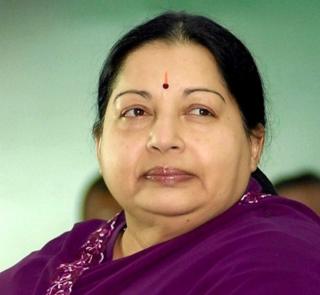 Indian social media has been awash with tributes for the popular and powerful politician J Jayalalitha, a day after she died of a heart attack, aged 68.
The four-time chief minister of the south Indian state of Tamil Nadu had a chequered career but inspired respect for her ascent to the top of the state's male-dominated politics.
She was accused of populism but her schemes benefited the poor and women.
Reactions to her death have been trending on both Twitter and Facebook.
#RIPAmma and #Jayalalithaa have been trending on both social media platforms. She was often referred to as "Amma" (mother) by her legions of followers.
One post on Facebook which pays tribute to Jayalalitha's steely determination and courage has been shared almost 20,000 times.
"She was a glamorous actor who cannot, by definition, be taken seriously. Above all, she was a woman trying to ascend to power in 1980s Tamilnadu," the post by Charanya Kannan reads.
"An unmarried, childless woman. To put it in context, she was not only walking a path of thorns, she did it in an oxygen less chamber while her arms and legs were tied. It's a feat that she survived at all, not to mention that she actually thrived."
Many women shared similar sentiments, focusing on how her rise in a patriarchal system had inspired them personally.
"No matter your opinion of Jayalalithaa, she rose to the top in a male-dominated field and remained a formidable figure in Madras for decades," said Lakshmi Kumarawswami.
"Salute to the steel lady of TN who shined like a golden star in the sky of politics, where male clouds dominate," wrote a user named Srividhya Bhagirathi.
"One of the most powerful, inspiring woman in Indian political history #Jayalalithaa passed away at the age of 68 🙏 #RIPAmma," read another post by a Facebook user named Rashmi Upadhyay.
The sentiments were very similar on Twitter, where a short video of her first swearing in ceremony has been retweeted over 500 times.