Dorris Francis: Delhi 'traffic queen' has cancer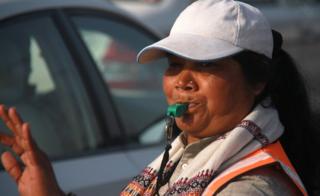 Dorris Francis, who is known as a "traffic heroine" and featured in a BBC series from India earlier this year, has been diagnosed with cancer.
Ms Francis was admitted to a hospital and underwent surgery last week.
Although not a police officer, she manages traffic at an intersection in Ghaziabad, a suburb near Delhi.
The intersection has special significance for her because one of her daughters, Nikki, died in an accident there in 2009.
The 69-year-old was featured in Unsung Indians, a BBC series on people working to improve the lives of others.
Her other daughter, Dolly, told the BBC that her mother had been managing traffic for four hours every morning until 20 November, when she complained of stomach pain.
She was admitted to a hospital in Delhi next day and underwent a four-hour-long operation on Wednesday.
"She had not been feeling well for the past two months, but delayed going to the doctor. When the doctor examined her, he said the cancer had spread and she needed to be operated on immediately."
It is not clear when Ms Francis will be released from hospital.
Ms Francis was travelling in a tuk-tuk in 2009 when a speeding car hit it.
"She died, I survived. I wish traffic was managed better that day," she told the BBC.
Since then she has been managing the traffic in the same spot in Ghaziabad day after day.