Sushma Swaraj scripts happy end to India-Pakistan love story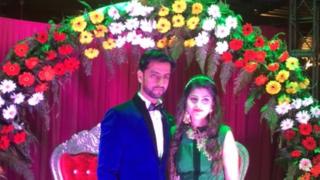 An India-Pakistan love story has had a happy ending after Foreign Minister Sushma Swaraj got the bride her visa.
Naresh Tewani, from Jodhpur in north India, tweeted Ms Swaraj asking for help, after his Pakistani bride Priya Bachchani's visa was delayed.
The minister ensured that all 35 members of Ms Bachchani's family got visas to attend the wedding on Monday.
The couple have thanked Ms Swaraj for helping them at a time tensions are running high between the countries.
The two families said that they hoped that the minister's gesture would help ease ties.
India and Pakistan accuse each other of increasing hostilities along the Line of Control, the de facto border that divides disputed Kashmir.
"Love triumphs ultimately. Love prevails in both the countries and that's why we are here," the bride's father, Giridharlal Bachchani, told BBC Urdu's Shakeel Akhtar.
The groom's father said he was relieved after facing "some nervous weeks due to visa delays".
The ball started rolling only when the groom directly sought Ms Swaraj's help.
The minister, who is known for her prompt replies on Twitter, did not disappoint him: