India channel NDTV to be taken off air for a day over terror coverage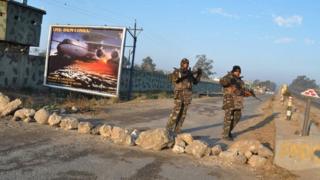 Indian news channel NDTV will be taken off air for 24 hours as a penalty for its coverage of an attack on an air force base.
The ministry of information and broadcasting said NDTV Hindi revealed "strategically-sensitive details" while covering the attack on the Pathankot air force base in January.
NDTV denied the accusation, saying its coverage was "particularly balanced".
Seven Indian soldiers and six militants were killed in the attack.
India accused Pakistan-based group Jaish-e-Mohammad of carrying out the assault.
'Extraordinary order'
The ministry said the channel would be taken off air on 9 November for 24 hours for revealing information on ammunition and the locations of military planes.
This is believed to be the first order against an Indian broadcaster over its coverage of terrorist attacks.
NDTV said it was looking at "all possible options" in response to the "extraordinary order". The channel has also received support from the Editors Guild of India, an organisation of top editors which condemned the "unprecedented decision".
The group demanded the order be rescinded
The news is also trending on Twitter under the #NDTVBanned hashtag. Some users have criticised the government for banning the channel.
But others supported the government's ban.