Bhopal prison escapees killed by police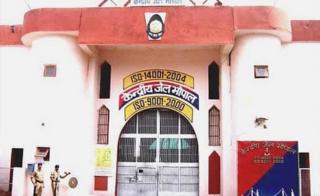 Eight prisoners who escaped from a high-security jail in the central Indian city of Bhopal have been killed, police say.
The inmates, members of an outlawed Islamist group, escaped just hours earlier after killing a prison guard.
Police said they killed the fugitives outside the city in Madhya Pradesh state after they resisted arrest.
Last year, two people escaped from Delhi's maximum security Tihar jail by digging a tunnel under a wall.
Prison break: Four unusual ways Indians have escaped jail
The eight men escaped the prison in Bhopal, by using bed sheets to scale a wall, senior police official Bhopal Rama Singh told the Press Trust of India news agency.
He said the men belonged to the banned Students Islamic Movement of India (Simi), a group that has been linked to a series of bomb blasts in the past.
Simi were blamed by police for bombings of Mumbai commuter trains in 2006 which killed 187 people.
An inquiry has been launched into the escape and the prison's superintendent has been suspended, reports say.
In 2013, seven inmates, including six members of the Simi, escaped from a prison in Madhya Pradesh after breaking through a toilet wall.
One of the prisoners was later apprehended near the jail in Khandwa district.