Four arrested over gang rape of teenagers in Delhi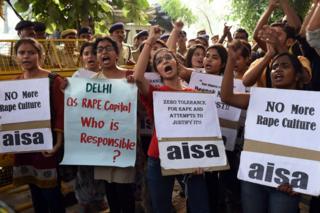 Four men have been arrested in India's capital, Delhi, for allegedly gang raping two teenage girls in a public park.
The girls were attacked on Thursday evening when they were sitting in the park in Aman Vihar area with two male friends.
The four men raped the girls in front of their friends, police said.
Two of the attackers are likely to be below the age of 18 and a fifth suspect is on the run, police added.
The male friends of the girls were reportedly beaten up when they tried to protect them.
Rape and gender crimes have been in the spotlight in India in recent years after the brutal gang rape and murder of a student in 2012 in Delhi.
In response, tough new anti-rape laws were introduced in the country.
However, brutal sexual attacks against women and children continue to be reported across the country.