India rhinos: Rescued calves adjust to life after floods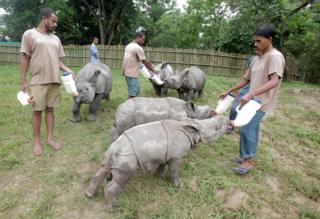 Eight rhino calves rescued from floods in India's Kaziranga national park in July and August are slowly being reintroduced into the wild.
Wildlife officials have placed the calves into a makeshift paddock as part of a "stabilisation process" to get them used to their surroundings.
They will be released into the park once they are four years old.
Kaziranga is one of the world's most important wildlife parks and home to the highly endangered one-horned rhino.