Delhi 'sex tape' minister Sandeep Kumar removed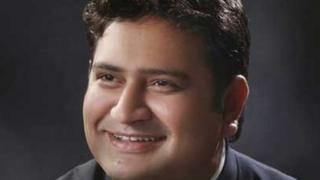 A minister of the state government in the Indian capital, Delhi, has been removed after the emergence of what appears to be a sex tape.
Sandeep Kumar was the minister for women and child development in the government, ruled by the anti-corruption Aam Aadmi Party (AAP).
Chief Minister Arvind Kejriwal said he had received an "objectionable" CD of Mr Kumar and sacked him.
The AAP won a stunning victory in the Delhi state elections last year.
Delhi's Deputy Chief Minister Manish Sisodia told reporters that Mr Kejriwal had "taken action" against Mr Kumar within 30 minutes of receiving the tape.
It is not clear who sent the tape to the chief minister.
Mr Kejriwal tweeted the decision on Thursday evening:
Mr Sisodia said his party had a "zero tolerance policy towards corruption and scandals".
"Ministers found taking bribes were removed immediately as soon as it was found. Action will be taken swiftly against any member irrespective of status or position," he was quoted as saying by the NDTV news channel.
Mr Kumar has not yet commented on the development.
He is the second minister to have been removed from the Delhi cabinet since the AAP came to power in February 2015.
Last year, food minister Asim Ahmed Khan was removed for allegedly demanding bribes.
And law minister Jitender Tomar quit after he was accused of faking his college degree.