Mahmood Farooqui: India filmmaker sentenced over rape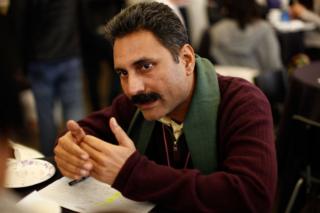 A court in India has sentenced filmmaker Mahmood Farooqui to seven years in jail for raping a US woman.
The woman told the court that the director raped her in March 2015 when she met him in Delhi in connection with a research project.
She returned to the US soon after, but came back in June to report the incident to the police.
Farooqui is best known for co-directing Peepli Live, a satire about farmer suicides and the media's response.
The US citizen told the court that the director had apologised to her through emails and text messages, which were presented as evidence by the prosecution.
His wife Anusha Rizvi, who co-directed Peepli Live with him, had defended her husband last year, saying the allegations were "false".
Rape laws have been toughened in India as a response to the increasing outrage over gender crimes, but correspondents say this has failed to act as a deterrent.