India floods kill more than 150 people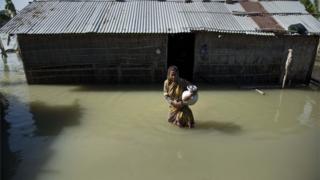 Floods across India over the past three weeks have killed 152 people and displaced millions, officials said.
Officials said 34 people had died and 1.1 million displaced in the north-eastern state of Assam alone.
Efforts are also underway to rescue animals from the state's Kaziranga national park, which is one of the last habitats of the rare one-horned rhino.
Wildlife officials said 80% of the park is under water and over 100 animals, including 17 rhinos, have died.
Floods have also damaged large tracts of agricultural land and infrastructure in the northern states of Bihar and Himachal Pradesh, as well as West Bengal state in the east.
The PTI news agency said hundreds of people were stranded along the highways leading to Manali, a tourist resort in Himachal Pradesh.
India's meteorological department has said that heavy rains are likely to continue.