Baby rhinos rescued from India Assam floods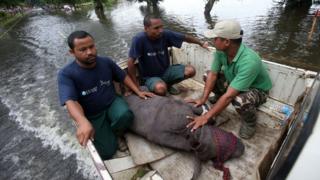 Wildlife officials in India have rescued three baby rhinos from the Kaziranga national park in flood ravaged Assam state.
The two male and one female calves are under observation, officials said.
During floods, hundreds of animals in the park move to the adjacent hills of Karbi Anglong for safety.
Kaziranga is one of the world's most important wildlife parks and is home to the highly endangered one-horned rhino, elephants, swamp deer and tigers.
Earlier a herd of elephants was photographed swimming through the flooded park and crossing a national highway for drier higher ground.
Officials had also rescued seven hog deer from the floods, they said.