India author and activist Mahasweta Devi dies aged 90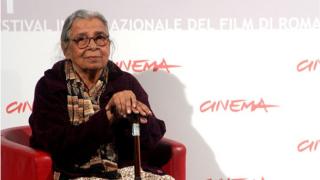 Influential Indian writer and activist Mahasweta Devi has died aged 90, in the eastern city of Kolkata, her family has said.
Devi, who was hospitalised earlier this month, died of cardiac arrest and multiple organ failure on Thursday.
She wrote extensively about the oppression faced by lower caste and tribes people in India.
Prime Minister Narendra Modi was among several leaders who paid tribute to the writer.
"Mahasweta Devi" has begun trending on Twitter in India.
Devi, was an outspoken proponent of equal rights.
She famously made a speech at India's prestigious Jaipur literary festival where she said all humans had the fundamental "right to dream".
"I would remember her as one of the most important writers in India because of the subjects she chose and remained faithful to them," publisher Urvashi Bhutalia told the BBC.
"Her writing was a political battle for the downtrodden and she never compromised on her ideas. She was a very kind human being."
A number of her works, including the best-selling Breast Stories, have been translated into English from Bengali, and are also studied in universities across India.