India monsoon rains kill 12 in Uttarakhand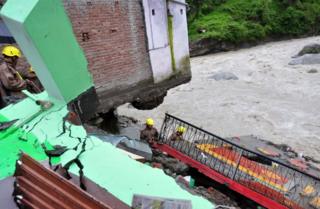 At least 12 people in the northern Indian state of Uttarakhand have died over the weekend in landslides and road accidents triggered by monsoon rains.
Ten people died in road accidents and two others were crushed to death when a tree fell on them.
Most rivers are flowing above the danger mark and the weather department has predicted more rains in the next few days in the Himalayan state.
Hundreds die in monsoon season floods every year in India.
Four people were found dead in a car buried under the debris brought down by a landslide in Tehri district on Sunday afternoon, The Times of India reported.
One woman died when the bus she was travelling in fell into a gorge on Saturday in Haldwani district. Five others died in other accidents in different parts of the state.
Two people died on Saturday night when a tree fell on their temporary shelter in Uttarkashi district.
Chief Minister Harish Rawat had ordered disaster response agencies to be prepared to deal with such incidents in the coming days.
Uttarakhand was also badly hit by deadly flooding and landslides in 2013.
Authorities had confirmed that some 600 people had died in the disaster. They later said that more than 5,700 people who went missing in the devastating floods were also presumed dead.