Sonowal takes oath as first BJP chief minister in Assam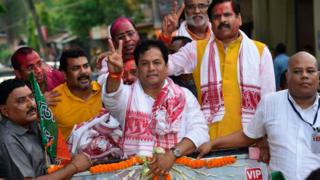 Assam on Tuesday became the first BJP-ruled state in north-eastern India after Sarbananda Sonowal took oath as the chief minister.
Prime Minister Narendra Modi and other top leaders of India's governing party attended the oath-taking ceremony in the state capital, Guwahati.
Last week, an alliance led by the BJP won 60 of the 126 seats, while the Congress party took 25 seats.
The BJP sees Assam as a stepping stone to expand in north-eastern India.
Mr Modi thanked Assam for giving his party a "historic mandate" and promised to provide federal help for the state's development.
The Assam results came as a shot in the arm for the BJP which swept the national polls in the summer of 2014 but has since suffered setbacks in important regional elections, including in the capital, Delhi, and in the northern state of Bihar.
For the Assam elections, the BJP tied up with local parties that support rights of local tribes-people and are opposed to illegal migration, something correspondents say worked in its favour.