India's BJP wins landmark Assam victory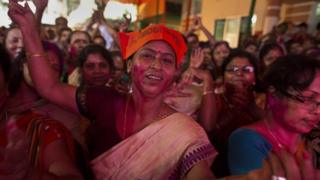 Prime Minister Narendra Modi's BJP party has secured a historic victory in India's north-eastern state of Assam, one of five states electing new governments.
The party won 60 of the 126 seats, while the Congress party took 25 seats, the Election Commission reports.
Assembly elections were also held in Tamil Nadu, Kerala, West Bengal and in the union territory of Pondicherry.
Congress, the main opposition, won in Pondicherry but lost everywhere else.
The BJP also lost in all states but Assam.
The Assam results come as a shot in the arm for the BJP which swept the national polls in the summer of 2014 but has since suffered setbacks in important regional elections, including in the capital, Delhi, and in the northern state of Bihar.
Assam is ethnically diverse and prone to conflicts and the state has been governed by the Congress since 2001.
For these elections, the BJP tied up with local parties that support rights of local tribes-people and are opposed to illegal migration and, correspondents say, that worked in its favour.
In the other elections:
The regional Trinamool Congress party led by Chief Minister Mamata Banerjee secured a second term in power in the eastern state of West Bengal, winning 211 of 294 seats. A rival alliance of the Congress and left-wing parties won 74 seats.
In the 234-member Tamil Nadu state assembly, the regional AIADMK won 131 seats and was ahead in four others, while its nearest rival, the DMK, secured 86 seats and was leading in two others. Congress won eight seats and the BJP none.
In Kerala, which has been traditionally ruled by either Congress-led governments or a coalition of left-wing parties, the Communist Party of India (Marxist) won 58 seats, while the outgoing Congress party saw its votes fall, taking just 22. The state assembly has 140 seats. The BJP won just one.
Only in tiny Pondicherry could Congress celebrate victory. It took 15 of the 30 seats and is set to form a government with the help of the DMK, The Hindu reports.