Indian guru mocked on Twitter for claims he 'refused Nobel'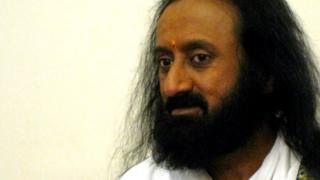 Indians have been ridiculing spiritual leader Sri Sri Ravi Shankar on Twitter after he allegedly claimed that he once turned down the Nobel Peace Prize.
Indian newspaper Deccan Chronicle reported on Monday that the guru had said he rejected the honour because he "only believes in working".
The paper added that he also questioned Nobel winner Malala Yousafzai's work.
His Art of Living foundation denied that he made the comments, but it did little to stop the mockery on Twitter.
'Not working for prizes'
The guru was visiting the drought-hit regions of the western state of Maharashtra to review his foundation's work when he reportedly made the statement.
"I was in the past offered the Nobel Peace Prize, but I had rejected it as I only believe in working and not in being honoured for my work. We should always honour only to those who deserve it and I am totally against honouring Malala Yousafzai with the prize and it is of no use," the paper quoted him as saying.
But his foundation rejected that he made the statement and asked the paper to apologise.
The foundation also put out its own version of the guru's statement on Twitter.
"What will I do with a prize? We have been doing social work for years now and it has not been for prizes. When good work is done, people think it's for a prize. There is no logic in this," the guru said according to his foundation.
But the foundation did not reject that he indirectly questioned Yousafzai's work.
"When a 16-year-old girl, without any body of work, gets the prize, you get a sense that you don't need to do much to get the peace prize," the foundation's press statement quoted the guru as saying.
But not many agreed with with his comments on Twitter.
This is not the first time that Sri Sri Ravi Shankar has angered social media users.
His decision to hold a mega cultural festival on the floodplains of Delhi's main river in March had also angered people.
India's environment watchdog had criticised the Art of Living Foundation as well as various government departments that granted permission for the event without making the prerequisite environmental checks.