Pakistan prison death: India family demands return of body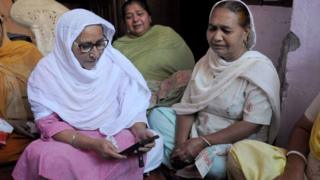 The family of an Indian man who died in a Pakistan jail on Monday has demanded that his body be sent back to India.
Kirpal Singh had been in a Lahore jail for 20 years after being accused of involvement in a bomb attack on the Faisalabad railway station.
His family says he accidentally crossed the border into Pakistan under the influence of alcohol.
Pakistan officials said Singh had collapsed after complaining of chest pains and died in hospital soon after.
Singh's sister-in-law Kanta Devi, who lives in India's Punjab state, told BBC Hindi's Robin Singh that the family wanted to perform his last rites.
The family claimed that repeated requests to the Indian government to help free Singh had been ignored.
Singh was lodged in the same jail as Pakistan's "most famous" Indian prisoner Sarabjit Singh who died in 2013 after being attacked with bricks by other inmates.