Gatimaan Express: India launches 'fastest train' at 160km/h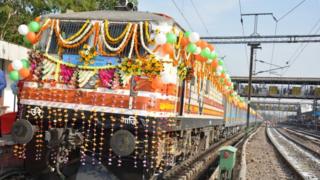 India has launched its "fastest train" capable of running at a maximum speed of 160km (100 miles) an hour.
Railway Minister Suresh Prabhu flagged off the Gatimaan Express on Tuesday morning, which connects Nizamuddin station in the capital, Delhi, with the northern town of Agra.
The train covered the 200km distance in 100 minutes, railways officials said.
Until now, India's fastest train was the Rajdhani Express which could travel at a maximum speed of 130km/hr.
Gatimaan Express will run six days a week, except on Fridays, the railway ministry said in a statement.
The passengers will have options of different kinds of cuisine, free wifi and on-board entertainment, it added.
Indian Railways is the third largest railway network in the world, but it has been in desperate need of modernisation.
The government, under Prime Minister Narendra Modi, has promised to upgrade and modernise the creaking rail service, including introducing bullet trains which could reach speeds of 400km/h.
At present, most Indian trains average under 60km/h.
Some trains around the world have reached a much faster speed.
A Japanese magnetic levitation train broke the world speed record in 2015, reaching a top speed of 603km/h (374mph).