Rare Madagascar tortoises seized at Mumbai airport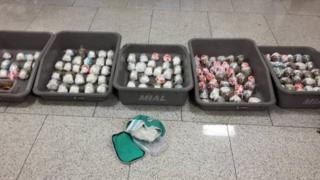 Indian custom officials say they have seized 146 endangered tortoises from an abandoned bag at Mumbai airport after noticing a strange smell.
Customs officials said the 139 Radiated and six Angonoka tortoises had been "wrapped inhumanly" in plastic bags.
Two Radiated tortoises were found dead, with broken shells, but the rest were alive, officials said.
The tortoises were being smuggled from Madagascar to Nepal, with Mumbai as a transit point, they added.
No arrests have been made so far.
Assistant Customs Commissioner Kiran Kumar Karlapu tweeted that only 600 Angonoka tortoises are left in the wild.
Angonoka tortoises, also known as Ploughshare, are highly prized for their distinctive gold and black shells and fetch exceptionally high prices on the international black market.
Officials said the tortoises would be sent back to Madagascar in accordance with Indian laws.