World Twenty20 2016: India battle Pakistan over New Zealand loss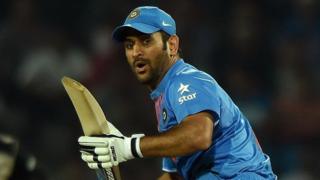 New Zealand's shock 47-run victory over tournament favourites India in the opening match of the World Twenty20 Super 10s has sparked off a social media war.
Irate Indians have been battling it out with mocking cricket fans from other countries, most notably Pakistan.
The hashtag #IndvsNZ, which was trending on Twitter during the game, quickly turned into a battleground.
India were bowled out for 79 in pursuit of 127 on a slow surface in Nagpur.
India's poor performance initially led to much agony and hand wringing on Twitter by disappointed fans.
Some even tried to be sporting about it:
But that didn't help to stop the mockery, some of which came from Indians, but most from gloating Pakistan fans.
This predictably led to a slanging match on the social media platform:
All the heartburn and anger overshadowed the performance of the Indian women's cricket team which convincingly beat Bangladesh in their own game.
And it has also set the mood for India's high stakes encounter against Pakistan, which will take place in Kolkata (Calcutta) on Saturday.