Arrest after girl raped, set on fire near India capital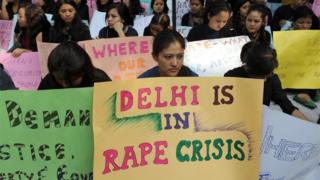 Police in India have arrested a man after a girl was allegedly raped and set on fire at her home in Greater Noida, near the capital, Delhi.
The 15-year-old is fighting for her life in hospital with 80% burns.
The suspect, Ajay Sharma, asked the girl to meet him on the terrace of her house, where he allegedly raped her and set her on fire, senior police official Rakesh Yadav told BBC Hindi.
The suspect was known to the victim, Mr Yadav said.
He added that a case of rape and attempted murder had been registered against Ajay Sharma.
Security has been increased in Tigri village where the incident took place.
Mr Yadav said they suspected a "love triangle" at play, and added that further investigations were under way.