Smriti Irani: Indian minister rejects car crash death claim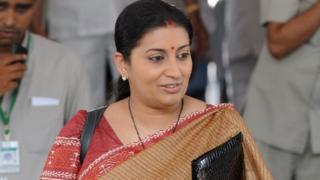 Indian minister Smriti Irani's office has denied a car from her convoy caused a man's death on Saturday.
Ramesh Nagar died and his daughter and nephew were hurt as a car hit their bike on the busy Agra-Delhi motorway.
His family filed a police complaint which said that the car which hit him was part of the minister's convoy, and that she did not help the victims.
But on Monday Ms Irani's office rejected the allegations and said she had called for medical assistance.
PTI news agency quoted a statement as saying that the car which hit Mr Nagar's motorbike "had nothing to do with HRD [Human Resource Development] Minister's cavalcade as being run in section of media".
The statement added that Ms Irani had instructed officials "to arrange ambulance immediately so that injured could be given medical treatment at the earliest".
The statement was issued after the family told several media outlets that she had refused to help the accident victims.
Abhishek, Mr Nagar's son, told BBC Hindi that "the minister got out of her car" and left the scene of the accident "despite my sister's pleas".
"She is such an important minister, but she did nothing to help. A stranger helped and he called me to inform me about the accident. He also called the police," he said.
The minister tweeted on Saturday about the crash.