Congress party rejects ex-minister's views on Afzal Guru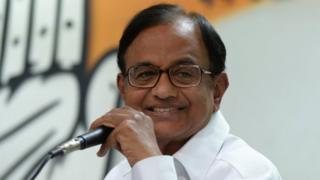 India's Congress party has distanced itself from former minister P Chidambaram's comments on the hanging of Kashmiri militant Afzal Guru.
He told a newspaper that "one can hold an honest opinion that the [Afzal Guru's] case was not correctly decided".
His party, however, said it was "futile to reopen this debate" because "the matter had attained judicial finality".
Guru was convicted over a 2001 plot to attack India's parliament.
He had always denied plotting the attack, which was carried out by Kashmiri militants and left 14 dead.
Mr Chidambaram's statement comes after the arrest of three students of India's prestigious Jawaharlal Nehru University on sedition charges.
They are accused of organising a rally on 9 February against Guru's hanging at which anti-India slogans were allegedly raised,