India corruption row: Arun Jaitely sues Arvind Kejriwal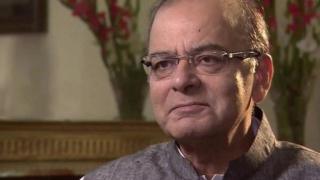 India's Finance Minister Arun Jaitley has sued Delhi Chief Minister Arvind Kejriwal for defamation after a bitter row over corruption allegations.
Mr Kejriwal's Aam Aadmi Party (AAP) has alleged that "financial irregularities" took place in Delhi's cricket association under Mr Jaitley's watch.
The finance minister said Mr Kejriwal "seems to believe in untruth".
Mr Jaitley's 13-year tenure as the head of the Delhi and District Cricket Association (DDCA) ended in 2013.
He has also sued five other AAP leaders - Kumar Vishwas, Ashutosh, Sanjay Singh, Raghav Chadha and Deepak Bajpayee - for accusing him of corruption.
The finance minister also rejected the AAP's allegation that his family members made financial gains during his time at the DDCA.
The AAP, however, said Mr Jaitley should step down until he was proven innocent.
The Delhi government has set up an inquiry panel to look into the allegations that funds meant for the development of the Feroz Shah Kotla stadium "were misused".
A bitter war of words started between Mr Jaitely's BJP party and the AAP last week when a federal investigative agency raided Mr Kejriwal's office.
The Central Bureau of Investigation (CBI) said it was investigating a top bureaucrat in Mr Kejriwal's office for corruption.
But the AAP said the CBI raided Mr Kejriwal's office "to find files related to the DDCA scam".