India censor head: Never compared Modi to Mahatma Gandhi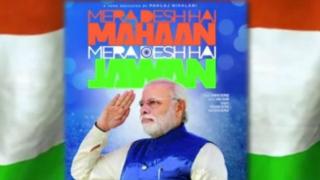 Indian film censor board chief Pahlaj Nihalani has defended a music video he has made glorifying Prime Minister Narendra Modi.
The song, which translates from the Hindi as "My country is great", is nearly seven minutes long.
Critics are upset with lines that seemingly compare Mr Modi with Mahatma Gandhi, a charge Mr Nihalani denies.
Social media users also pointed out shots of "Indian development" in the video were really from other countries.
"I have said [in the film] that the dream Gandhi had seen... it's film language. Gandhi had the dream of making India clean and Modi is fulfilling that dream," Mr Nihalani told BBC Hindi's Vineet Khare.
"The dream has to be fulfilled with co-operation from everyone. People who think I have made comparisons do not want to see the country's progress," he added.
Mr Nihalani's efforts were termed "so bad it's good" by the DNA newspaper, while the Hindustan Times called it a "cringe fest".
The video shows, among other things, delighted schoolchildren spotting Mr Modi sitting on a snow-capped mountain in a lotus pose.
But a comparison to Mahatma Gandhi is not the only issue that critics have with the song.
The film also shows shots of skyscrapers, modern motorways and space shuttles to "showcase India's development".
However, social media users were quick to point out that many of those were not even Indian.
Mr Nihalani, who was appointed the head of the Central Board of Film Certification of India in January this year, said the use of these shots was deliberate.
"There are 160 shots in the film. Only five shots show what India's future would look like. Every filmmaker has visual imagination...what's the big deal in that?" he asked.
"I have shown an India of the future," he added.