Virender Sehwag: A 'simple hero' of Indian cricket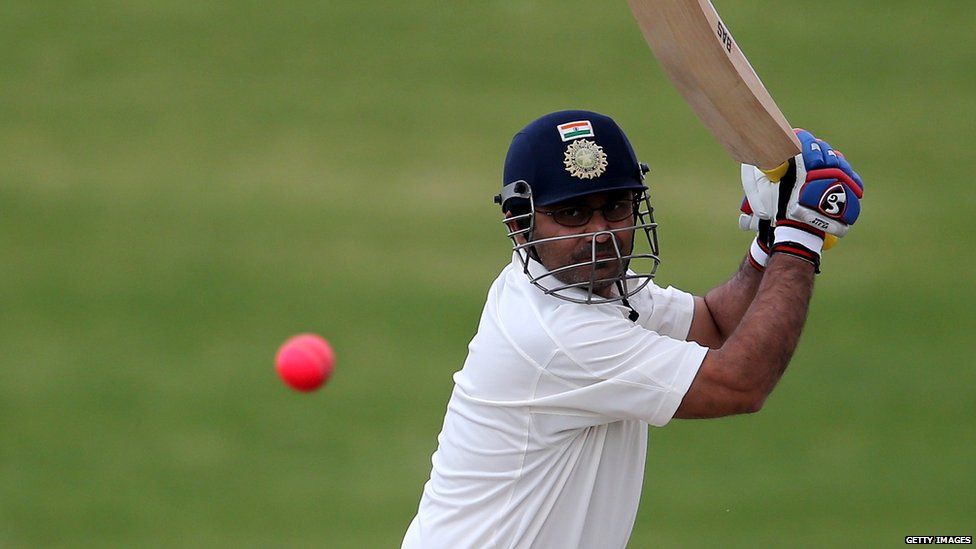 Former India opener Virender Sehwag will be remembered as a batsman who rewrote the rules of the game, writes BBC Monitoring's Vikas Pandey.
"Cricket has been my life," Sehwag, said in a statement after announcing his retirement from international cricket and the Indian Premier League on Tuesday.
"I did it my way," he said. And he certainly did.
Sehwag played in the era of legends like Sachin Tendulkar, Saurav Ganguly, Rahul Dravid and VVS Laxman, but still managed to create his own unchallenged niche.
Paying tribute, Sachin Tendulkar tweeted that he had "the best seat" at the non-striker's end whenever his opening partner demolished bowlers.
He can't be accused of exaggeration because watching Sehwag bat was, as many cricket commentators agree, magical.
Sehwag never followed conventional rules of batting.
He hugely relied on his hand-eye coordination and always followed his instincts.
How else can you explain a batsman attempting a six while batting at 294 like he did, during a Test match against Pakistan?
Sehwag's former captain Mahendra Singh Dhoni also acknowledged his destructive capabilities.
"Didn't see Viv Richards bat in person but I can proudly say I have witnessed Virender Sehwag tearing apart the best bowling attacks," the India captain tweeted.
While Tendulkar was known as a batting maestro and Dravid as a master of technique, Sehwag's strength was his simplicity.
He made batting look uncomplicated. When in top form, he looked liked a "meditating monk" on the crease.
His fluid cover drives and towering sixes always had millions cheering across the country.
"A simple man, his batting was even simpler. The ball was meant to be hit. So hit it he did. Sometimes he caressed it, sometimes he whacked it," writes The Hindu's Vijay Lokapally in his tribute piece.
Cricinfo.com's Jarrod Kimber paid tribute saying, "The man who wore no number, could with a simple 200 out of 330, give you a sudden rush of blood, that slight, magical dizzy feel of something you can't quite explain," he writes.
Sehwag's retirement also marks an end of the "Fab Five" batting line-up that included three former captains in elegant left-hander Ganguly, legendary Tendulkar and gritty number three Dravid, as well as the free-scoring Laxman.
Tendulkar, Ganguly, Dravid, Laxman and Sehwag were the backbone of the India batting line-up for years
Sehwag proved his prowess as an attacking ODI player early on in his career.
He made his first ODI century against New Zealand in Sri Lanka in 2001. Some of his shots had a striking similarity with Tendulkar's strokes, earning him the nickname of "Twindulkar".
But there were many critics who said he did not have the potential to be a Test player.
Sehwag not only went on to become a brilliant Test opener, but he rewrote the rules of the format.
He didn't seem interested in following the traditional practice of "seeing off" opening bowlers at the expense of scoring runs.
Instead, he scored fast and ruthlessly.
"Cricket is now more than comfortable with the up and down nature of the Kaboom kid. Without Sehwag, perhaps we wouldn't be?" asks an article on the Firstpost website.
But there was one rule he followed religiously - he remained a gentleman in the game of cricket.
"He let fame sit quite lightly on his shoulders. He was a simple hero at heart, untouched by the complications that usually accompany celebrity status," writes C Rajaraman on Catchnews.com.
BBC Monitoring reports and analyses news from TV, radio, web and print media around the world. For more reports from BBC Monitoring, click here. You can follow BBC Monitoring on Twitter and Facebook.
Related Internet Links
The BBC is not responsible for the content of external sites.