Dhoni in sporting rich-list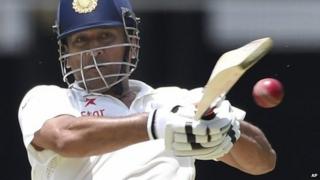 Indian cricketer Mahendra Singh Dhoni has been ranked 23rd in Forbes magazine's list of the world's highest-paid athletes.
Dhoni is the only Indian athlete on the magazine's annual sporting rich list.
The magazine reports that Dhoni earned US$31m dollars (£19.98m) in the past 12 months.
Boxer Floyd Mayweather earned US$300m (£194m) to top the list, and his rival Manny Pacquiao is in the second spot with $160m (£103.4m).
The third place went to Portugal and Real Madrid striker Cristiano Ronaldo with his earning of $79.6m (£51.4m).
Dhoni retired from Test cricket at the end of 2014, handing over captaincy to Virat Kohli. But he is still the captain of India's ODI and Twenty20 teams.
He is India's most successful captain and is hugely popular among millions of fans around the country.
Most matches as India Test captain
Tests
Won
Lost
Drawn
Win %
MS Dhoni
60
27
18
15
45.00
S Ganguly
49
21
13
15
42.85
M Azharuddin
47
14
14
19
29.78
S Gavaskar
47
9
8
30
19.14
Nawab of Pataudi
40
9
19
12
22.50
Kapil Dev
34
4
7
22
11.76
He took India to the semi-final of the ODI World Cup in March this year, but lost to eventual champions and hosts Australia.
Pundits say his popularity makes him "a brand ambassador of choice" for many forms.
That explains the breakup of his earnings. The batsman made $4m in salary and winnings, and the rest came from endorsements, reports Forbes.
Top 10:
1. Floyd Mayweather, US, Boxing = US$300m (£194m).
2. Manny Pacquiao, Philippines, Boxing = $160m (£103.4m)
3. Cristiano Ronaldo, Portugal, Football = $79.6m (£51.4m)
4. Lionel Messi, Argentina, Football = $73.8m (£47.7m)
5. Roger Federer, Switzerland, Tennis = $67m (£43.3m)
6. LeBron James, US, Basketball = $64.8m (£41.9m)
7. Kevin Durant, US, Basketball = $54.1m (£35m)
8. Phil Mickelson, US, Golf = $50.8m (£32.8m)
9. Tiger Woods, US, Golf = $50.6m (£32.7m)
10. Kobe Bryant, US, Basketball = $49.5m (£32m)
Click here for full list
BBC Monitoring reports and analyses news from TV, radio, web and print media around the world. You can follow BBC Monitoring on Twitter and Facebook.