Salman Khan: Court suspends Bollywood star's sentence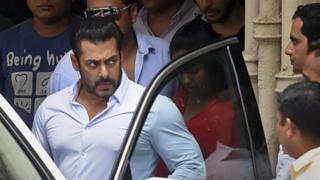 The high court in the Indian city of Mumbai has suspended Bollywood star Salman Khan's sentence for a 2002 hit-and-run conviction, pending his appeal.
Khan was convicted on Wednesday by a lower court of culpable homicide.
The court sentenced the actor to five years in prison for killing Noor Ullah Khan by driving over him as he slept on a pavement. Four others were injured.
Many expected Khan to be jailed on Friday but the court extended bail. A final appeal hearing is due in July.
During his trial, Khan argued his driver had been behind the wheel, but the judge said it was the actor who had been driving, under the influence of alcohol.
Within hours of his conviction on Wednesday, Khan approached the high court and was given interim bail for two days, meaning he stayed out of prison.
The actor - who had faced a possible 10-year jail term - then went home, where a number of Bollywood stars have since met him.
In the high court, Khan's lawyers argued that the prosecution had not been able to prove his guilt, that a key witness had been ignored and that the actor had been given a harsh sentence because of his celebrity status.
Correspondents say Friday's ruling will be a huge relief for the actor whose sentencing had divided Indians.
A prosecution lawyer told reporters that as a convict, Khan would need the court's permission to travel abroad.
While Khan's friends and colleagues in Bollywood and many fans have spoken out in his support, others called for him to be treated like any other citizen of the country who had committed a crime.
On Friday, Khan fans celebrated outside him home - many were seen distributing sweets, setting off firecrackers, dancing and singing in his support.
Many fans also gathered outside the court. One, Gorang Kundu, attempted to kill himself by consuming poison.
Reports said Mr Kundu had earlier distributed leaflets in which he offered to be jailed in place of the actor. He was taken away by the police.
The high court's decision has also been criticised extensively and many Indians have taken to social media sites to express their unhappiness.
Khan is one of Bollywood's biggest stars, appearing in more than 80 Hindi-language films. Several of his films, including Dabangg, Ready, Bodyguard, Ek Tha Tiger, Maine Pyar Kiya and Hum Aap Ke Hain Kaun, have been huge commercial hits.
The case has gripped Bollywood and India for years - and looks set to continue as lawyers argue in the appeal courts.
Late on the night of 28 September 2002, Khan's Toyota Land Cruiser hit the American Express bakery in the Bandra area of Mumbai, authorities say.
Trial court judge DW Deshpande, who found him guilty on the charge of culpable homicide, said in his 240-page ruling that the actor "didn't visit hospital to meet injured, provide aid".
He said Khan "could have visited cops immediately if he did no wrong".
Justice after 13 years?
September 2002: Salman Khan's car runs over five people sleeping on a Mumbai street, killing a homeless man and injuring four others
October 2002: Khan charged with culpable homicide not amounting to murder - arrested but granted bail
May 2003: Court rejects his plea to drop culpable homicide charge
June 2003: Bombay high court drops culpable homicide charge; actor is then tried for rash and negligent driving
October 2007: Prime witness, a constable who served in his security detail, dies
March 2015: Khan tells the court he was not drunk and his driver was behind the wheel
May 2015: Khan found guilty, given a five year jail sentence
Why Bollywood's 'bad boy' will stay popular
The superstar who lives dangerously
Bollywood stars defend a killer
Salman Khan: Victims' families want 'compensation'