Indian priest kidnapped in Afghanistan returns home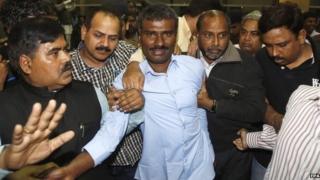 A Roman Catholic priest from India, kidnapped eight months ago in Afghanistan, has returned home.
Father Alexis Prem Kumar of the Jesuit Refugee Service reached Delhi on Sunday evening after his release.
He was abducted after visiting a school for returned refugees in western Afghanistan.
It is not known who the kidnappers were but reports say the Afghan authorities at one stage arrested three Taliban members in connection with the case.
Indian Prime Minister Narendra Modi said he was "delighted at securing" the priest's release.
Mr Kumar, 47, was abducted in Herat province in western Afghanistan by unidentified gunmen on 2 June last year.
At the time of his kidnapping, he had been in the country for more than three years and was working with the Jesuit Refugee Service, an international NGO.
On Sunday, his brother said the family did not have the words to express their joy.
"We have been praying for the last eight months for his release. It is a very good moment. Our prayers have been answered," John Joseph told the Press Trust of India news agency.
It is not clear whether any ransom was paid for Mr Kumar's release or how he was treated in captivity.
Mr Kumar thanked Mr Modi for his release and said the prime minister had "saved" him.
"He talked to me after I landed [in Delhi], and he arranged for my family to come here," he told reporters.
Reports say Mr Kumar is the fourth Indian to be released from captivity in the last 12 years in Afghanistan. These include two construction workers kidnapped and released in December 2003.