Narendra Modi: India PM warns against religious attacks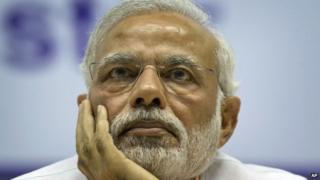 India's Prime Minister Narendra Modi has vowed to protect all religious groups after a string of attacks on churches in Delhi.
Addressing a Christian audience in the capital, he called on all religious groups to show restraint and respect.
Since December, five churches have been attacked, but this is the first time Mr Modi has commented on the issue.
Critics say his Hindu nationalist BJP government is not doing enough to stop Hindu zealots targeting minorities.
---
Religious strife
2 Dec 2014: Hundreds of Christians protest in Delhi after St Sebastian's Church is badly damaged in a fire
4 Dec: Minister Niranjan Jyoti uses an abusive term to refer to non-Hindus at a rally in Delhi
8 Dec: More than 50 Muslim families reportedly converted to Hinduism against their will in the town of Agra
7 Jan 2015: BJP MP Sakshi Maharaj sparks outrage by urging Hindu women to have at least four children "in order to protect the Hindu religion".
14 Jan: Church vandalised in West Delhi's Vikaspuri area
2 Feb: Church vandalised five days before Delhi assembly elections in Vasant Kunj area
---
Mr Modi has also been blamed for not doing enough to stop the 2002 anti-Muslim riots in Gujarat when he was the state's chief minister.
More than 1,000 people, mostly Muslims, were killed in the violence, which were sparked by a fire on a train at Godhra in Gujarat that killed 59 Hindu pilgrims.
Mr Modi has denied any wrongdoing and Indian courts have cleared him of all charges.
"I condemn violence against any religion. We will act strongly against such violence," Mr Modi said at a conference organised by Christian groups in Delhi on Tuesday.
"My government will not allow any group belonging to majority or minority to incite hatred against other communities."
Mr Modi also said that "everyone has the undeniable right to retain or adopt the religion of his or her choice without coercion or undue influence".
Christian groups accuse hard-line Hindu groups, emboldened by Mr Modi's landslide in last year's general election, of carrying out the recent attacks, but police say there is little evidence for this.
They say they have provided security to more than 200 churches in the capital.