Is Arvind Kejriwal set to regain Delhi?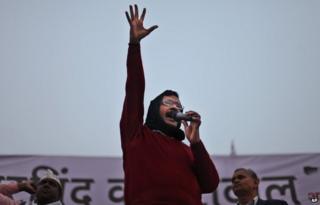 If opinion polls and the political buzz in Delhi are to be believed, India's leading anti-corruption activist Arvind Kejriwal is poised to lead his party to power in hotly-contested state elections on Saturday.
An aggregate of three leading polls shows Mr Kejriwal's Aam Aadmi Party (Common Man's Party) picking up 37 seats - two more than the simple majority needed to form a government.
Indian Prime Minister Narendra Modi's BJP and its allies are expected to come a fairly distant second with 29 seats, while the Congress party, which has been on a steep downward spiral, would win a miserable four seats, if the polls are to be believed. Senior AAP functionary and psephologist Yogendra Yadav talks about his party picking up as many as 40-50 seats, which would be a landslide.
It's been a roller coaster ride for Mr Kejriwal, an austere 46-year-old former bureaucrat, ever since he made a spectacular political debut in December 2013. In that vote, the AAP won 28 of the 70 seats in Delhi's state assembly, propelling him to the post of chief minister.
As I wrote at the time, Mr Kejriwal's party captured the imagination of many people who were tired of India's unchanging caste and dynasty-based politics.
But after 49 chaotic days, Mr Kejriwal abruptly resigned amid a row over an anti-corruption bill. For a leader who had promised to do the right thing, he had stubbornly refused to take action against one of his ministers. His critics, including the resurgent BJP under the leadership of Mr Modi, derided him as a dilettante, anarchist, and most tellingly, a bhagora, a Hindi word for one who ran away. That obviously hurt.
It was all downhill from Mr Kejriwal from there.
Goaded by senior party colleagues, Mr Kejriwal overestimated his reach and underestimated Mr Modi's rising popularity. He put up candidates in more than 400 candidates all over India in last May's general election. He claimed that his party would win at least 100 seats. Mr Kejriwal himself stood against Mr Modi in the holy city of Varanasi, setting it up as a David and Goliath battle under a glaring media spotlight.
The results were nothing less than catastrophic for his party: The AAP won four seats and 96% of their candidates lost their deposits. The much-touted Varanasi epic ended in an embarrassing whimper: Mr Modi decimated Mr Kejriwal, winning by more than 300,000 votes as he led the BJP to a historic landslide. I remember a telling headline from May: How Arvind Kejriwal destroyed the AAP.
Nine months on, however, Mr Kejriwal could well be about to prove his naysayers wrong.
Helped by an enthusiastic army of party workers, students and social activists, Mr Kejriwal seems to have bounced back. He has led a positive campaign focused on what his supporters say is a sharper agenda for Delhi's development - water, electricity, housing for the poor, security for women, action against corruption. He has apologised for abandoning power and now promises to serve his full term if voted back to power. "People were angry that we left. But that is past and we have asked for forgiveness. People say they are ready to forgive us and move on," Mr Kejriwal told The Times of India.
One analyst, who is not a fan of Mr Kejriwal, grudgingly admitted that the leader was "choosing his words more carefully and defining his politics more sensibly". "What we are indeed seeing is a new, improved Kejriwal whom defeat has taught a few lessons," he wrote. Mr Kejriwal, according to many, appears to be far more pragmatic about his limitations. Building a political base and a reputation as Delhi's leader appear to be his priority. "What has really changed is his idea of power. He's realised you have to respect the voters and demonstrate power," says analyst Ajaz Ashraf.
It helps Mr Kejriwal that, despite the general election debacle, his party's vote share in Delhi actually rose to 34% in May from the 31% it had polled in the December 2013 state polls. He also appears to be a favourite of Delhi's vast "underclass": 60% of the city's more than 17 million people live on less than 13,500 rupees ($218; £143) a month. These are the people worst hit by low-level corruption.
A virulently negative campaign against Mr Kejriwal by the BJP is not helping matters. Many analysts believe India's governing party is panicking.
The BJP has, at the last moment, co-opted Mr Kejriwal's former anti-corruption colleague, ex-policewoman Kiran Bedi, to take him on. Some, like historian Mukul Kesavan, say she may not have been a good choice. The party has also unleashed cabinet ministers, some 120 MPs and chief ministers and its biggest vote-catcher, Mr Modi himself, to campaign. Delhi is clearly looking like Mr Modi's toughest political challenge since May.
Will the broom, Mr Kejriwal's symbol, kick up a storm again? Watch this space on Tuesday, when the results will be announced.